Cowgate 'giant Lego blocks' roundabout delay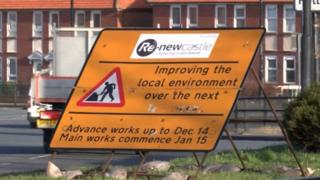 Motorists in Newcastle are facing further delays with work on a busy roundabout due to last until Easter.
The £4m scheme to replace Cowgate roundabout with a junction and traffic lights - which included filling in the basin with giant polystyrene blocks - was scheduled to finish in December.
Newcastle City Council said the final phase was now due to begin.
This would lead to further lane closures but it was working on a plan to minimise traffic disruption.
A council spokesman said it had decided to postpone the major works so traffic disruption would not impact on retailers during the Christmas and January sales period.