Police task force to tackle 'legal highs' in Newcastle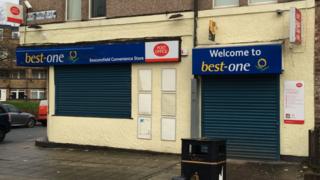 A task force has been set up by police in Newcastle to crack down on so-called "legal highs".
The move follows officers in the city responding to 98 incidents between 15 November and 16 January.
They include cases where people as young as 14 suffered near-fatal side effects to substances.
A team of about a dozen officers will be supported by health service experts, staff from Newcastle City Council and other support agencies.
Similar task forces have been established in Hertfordshire and Scotland.
'Enough is enough'
The Northumbria force has described the rise in incidents over the past six months as "alarming", with significant problems being highlighted in the west end of Newcastle.
Supt Richard Jackson said: "We are getting more and more reports of incidents where legal highs are a factor and it's almost every day now that officers are having to deal with the consequences of someone who has taken legal highs.
"Residents, especially in the west end and the city centre are becoming extremely concerned about the impact legal highs are having on their communities and enough is enough, we have to take action now and do something about it.
"We'll make arrests, close premises down and to use every tactic that we have at our disposal to stop the selling and distribution of legal highs in Newcastle."
---
What are legal highs?
Legal highs produce the same, or similar effects, to drugs such as cocaine and ecstasy, but are not controlled under the Misuse of Drugs Act
In many cases, they are designed to mimic class A drugs, but are structurally different enough to avoid being classified as illegal, so it is legal to possess and use them
They cannot be sold for human consumption, but are often given labels such as "plant food" to get around the law
The chemicals are made on an industrial scale in countries like China and India and then packaged and distributed throughout Europe 
---
Northumbria Police and Crime Commissioner, Vera Baird, added "Legal highs have a devastating effect on communities, that is why I have lobbied the Home Secretary urging her to implement effective laws that tackle those who make these products and those who sell them.
"Northumbria Police will do everything within their power to bring before the courts those who sell and produce these products."
Last week a shop in Newcastle was forced to close after police said it was suspected of selling legal highs.
The Best One shop on Beaconsfield Street was closed under anti-social behaviour laws.