Durham city's £2.5m roundabout works under way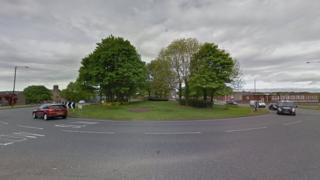 Motorists are being warned to expect delays as work begins in Durham on a £2.5m project to improve traffic flow.
Traffic lights are being installed on the Gilesgate and Leazes Bowl roundabouts in a bid to ease congestion on the main route through the city.
Pedestrian and cycle routes on both roundabouts will also be improved.
Durham County Council said although work will be carried out in phases, "disruption is likely" due to some restrictions and overnight closures.
Once installed the new traffic lights will be coordinated with those already in place on the Milburngate roundabout to "better manage" the flow of vehicles through the city, the council said.
Work on Gilesgate roundabout is expected to be completed in May. Work will then begin on Leazes Bowl, which is expected to be carried out until autumn.