North Tyneside to hold elected mayor referendum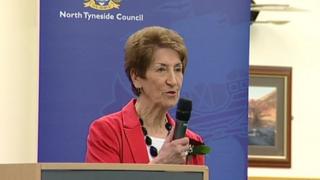 People in North Tyneside are being given the chance to vote on whether they want a directly elected mayor.
Current mayor Norma Redfearn said she wanted to give residents a "voice" on how the borough is run when she was appointed the post in 2013.
Voters will be asked whether the current system should be replaced by committees of councillors.
Ms Redfearn said she welcomed the poll after "promising" residents they would be given the opportunity to decide.
Councillors approved plans for the referendum on Thursday. It will take place on the 5 May - the same date as the Police and Crime Commissioner elections.
The council said if the results call for a change, this will take effect at the end of Ms Redfearn's current term of office in May 2017.
If the outcome is to support the current system, the next mayoral election will take place in May 2017.