Nissan Leaf £26.5m battery investment secures 300 jobs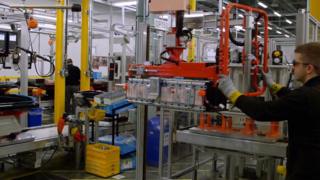 Nissan has announced plans to invest £26.5m in its production of electric vehicle batteries, safeguarding 300 jobs at its plant in Sunderland.
In 2011, the company benefited from £189m of European funding to build the Leaf and the lithium-ion batteries.
Since 2013, production of the Leaf has supported more than 2,000 jobs at Nissan and in its UK supply chain.
A Nissan spokesman said the new investment shows their "long-term commitment" to zero-emission motoring.
The money will be used on projects to develop and improve the batteries.
The Nissan Leaf was the first electric car to be mass-produced in the UK - about 60,000 batteries are produced at the plant each year.