Sunderland High School to close due to lack of pupils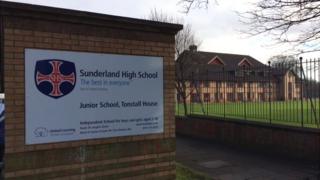 Falling pupil numbers and "significant" financial losses are being blamed for the decision to close a school that has taught children for more than 130 years.
In a letter to parents, Sunderland High School said "the economic reality is current and projected pupil numbers cannot secure" its long-term future.
Numbers have dropped from more than 580 in 2006 to about 280.
It will close at the end of the academic year.
'Cannot justify continuing'
Parents were told that despite making savings, the school will "still make a six-figure loss this year and was projected to do so again next year".
Jon Coles, chief executive of the United Church Schools Trust which runs Sunderland High School, wrote: "Any further cost savings would now directly impact on the quality of education on offer.
"In that context, we cannot justify continuing a long-term subsidy of the school.
"While we are prepared to invest in schools for as long as there is a realistic prospect of them breaking even, we cannot justify doing so when there is no longer that prospect."
Opened in 1883, children from nursery age are taught there through to A-levels.
Discussions are taking place with other schools in the independent and state sector to find places for pupils, Mr Coles said.