Berwick Jus-Rol factory to close with about 265 job losses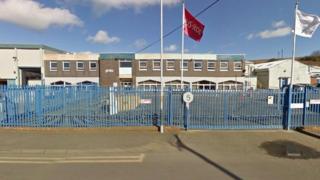 Hundreds of jobs are to be lost with the closure of a Northumberland pastry factory.
Operator General Mills has announced its Jus-Rol facility in Berwick is to close by autumn, with the loss of about 265 jobs.
The company announced in October proposals to close the site as it looked to "streamline" its operations.
Union USDAW said it had been an "extremely difficult" process and it was "devastating news" for the staff.
A General Mills spokesman said the company would provide support to all affected employees.
USDAW area organiser Rab Donnelly said: "Since the initial announcement we have been in extensive consultation meetings with the company, looking at ways to avoid a closure.
"With great sadness for the workers on the site, their families and the wider community, this proved not to be possible and General Mills have today announced that the closure of the Berwick factory will go ahead."
The site makes baking mixes and frozen dough products and has been operated by General Mills since 2001.
Councillor Alan Hepple, cabinet member for economic growth at Northumberland County Council, said: "This is very sad news for the county, and particularly for the staff who work in the factory, which has been a big employer in the town for many years."