Newcastle legal high shop ordered to close for three months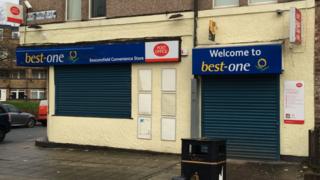 A shop suspected of selling legal highs has been forced to close after a spike in emergency service call-outs.
People had been causing problems while under the influence of the substances and a number were taken to hospital, Northumbria Police said.
The Best One shop on Beaconsfield Street, Newcastle, was closed by police under anti-social behaviour laws.
Magistrates have extended the closure for up to three months. The owners could not be reached for comment.
Newcastle City Council neighbourhoods member Nick Kemp said the council had issued warnings to shopkeepers that they faced prosecution if they did not stop dealing in legal highs.
"The recent spike in legal high emergencies has caused a lot of concern and put the ambulance service under severe pressure," he said.
"Hopefully this will give time for things to settle down in the community."