Ex-Durham University union rep called 'a sexy menace' by accuser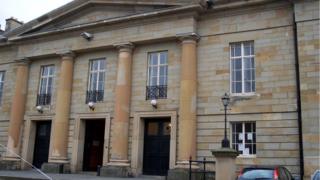 A man accused of raping a fellow student was called "a sexy menace" by her in a series of flirtatious Facebook messages, a court has heard.
Louis Richardson, a Durham University student from Jersey, said they exchanged "jokey banter" he would not expect from someone "annoyed at me".
She sent him a picture of her breasts in a bra, Durham Crown Court was told.
The 21-year-old denies raping and sexually assaulting the woman and sexually assaulting another in 2014.
The former secretary of Durham University's Union Society said the rape complainant had not been "drunk and unresponsive" as claimed in court.
The jury heard he later sexually assaulted her at a party, exposing her bra and saying: "Get your tits out - everyone else has seen them."
'Abrupt' change in tone
He denied this but told the jury he thought they had kissed when her top came down, exposing her bra.
They left together but did not have sex, because he "respected" her refusal.
He then received a message accusing him of rape which, because of an "abrupt" change in tone, he believed was actually written by her boyfriend.
Mr Richardson said he had not been concerned because he knew "she knew I had not raped her".
He is also alleged to have put his hand on the breast of a second woman while she lay ill in bed at a party.
He subsequently made a "qualified apology" to that woman's boyfriend but "had done nothing wrong", he told the court.
"I wanted to meet with (the woman) and I wanted to put the record straight," he said.
The defendant, of Midvale Road, St Helier, has been suspended by the university.
The trial continues.