#Drummondpuddlewatch: Plug pulled on internet puddle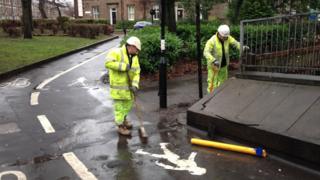 A puddle watched live on the internet by thousands of people has been drained by two council workers, apparently unaware of its cult status.
Viewers became captivated by a live stream of people trying to negotiate their way around the water just off Jesmond Road West, Newcastle.
The puddle intrigued Twitter users with one man turning up with a lilo and another with a surf board.
Newcastle City Council said it was probably time to "pull the plug".
Two structural engineering contractors were assigned to check the nearby subway following the heavy weather, a spokesman said.
'Genuinely hilarious'
"As the path with the puddle is a busy route for cyclists and pedestrians, they thought they were being helpful by digging away a little bit of soil to clear the water - and were completely unaware of its celebrity status," he said.
"Under normal circumstances we would all be very grateful to them for their initiative and helpfulness.
"Through the power of social media the puddle has provided a bit of fun for thousands of people - but, with more rain forecast, it was probably high time to pull the plug on its internet popularity."
Marketing company Drummond Central, who broadcast the puddle on the video app Periscope, said staff had been watching people trying to cross it for weeks.
Managing director Beth Hazon said: "It's crazy, we watch it every single day.
"We decided to stream it purely for our own amusement,
"I'd love to say there's some clever deep strategy but it is just genuinely hilarious."