Man in Newcastle commits 'highly unusual' offences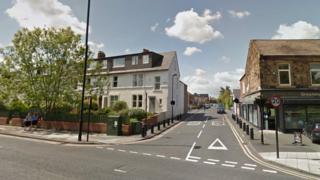 A thief stole a man's glasses while he was still wearing them - one of several "highly unusual" offences thought by police to have been carried out by the same person.
A woman's headphones, also snatched as she wore them, were among the targets, along with another woman's bag.
A third woman's bag was thrown in the road and an umbrella was taken.
The spree took place in under an hour on Tuesday near Gosforth's Regent Centre in Newcastle.
'Clearly distressing'
Insp Julie Rana of Northumbria Police called the acts a "highly unusual series of incidents", thought to be carried out by a man aged between 30 and 50.
"Fortunately no one has been seriously injured in this spate of incidents but clearly this was distressing for those involved and we want to find the person responsible as quickly as possible."