Ex-Durham University Union secretary denies sex charges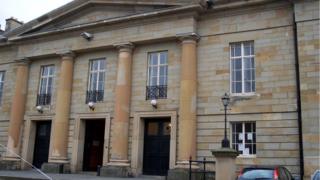 The former secretary of Durham University's Union Society has denied charges of rape and sexual assault.
Louis Richardson, 21, from Jersey, is accused of having sex with a student at his home, Durham Crown Court heard.
He also faces a charge of sexual assault against her, relating to an allegation he lifted up her top at a friend's house to expose her bra.
Additionally, he is claimed to have assaulted another student at a house party.
The court heard he had sex with the first woman in March 2014 when she was "crazy drunk" and unable to consent to intercourse.
The next morning he is said to have told her she was "rubbish in bed because she was unresponsive", the jury was told.
The rape complainant, who cannot be identified, wept as she gave evidence via a videolink.
'Sexual banter'
Mr Richardson told police it was "likely" they had had sex after he had seen her in Durham's Klute nightclub.
He said they had both been drinking but were not drunk. He also denied saying she was "rubbish" at sex, the court heard.
The rape complainant agreed with Philippa McAtasney QC, defending, that she and the defendant had sent each other jokey, flirtatious Facebook messages.
Asked if sending him a photo of her cleavage was "very flirtatious sexual banter", the woman replied: "I suppose so, yes."
The court was told Mr Richardson assaulted another student at a house party in October 2014.
She went to sleep in an empty bedroom and she woke to find a man with one hand on her breast and the other over her knickers, the jury was told.
Mr Richardson, of St Helier, denies one charge of rape and three sexual assaults. The trial continues.