Missing Sally Allan: CCTV images show last sighting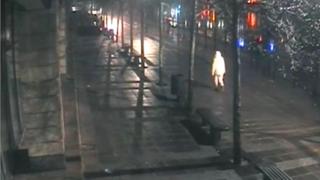 A missing grandmother's last-known movements have been shown on CCTV images released by police.
Sally Allan, 59, was filmed walking on Newcastle's Quayside at about 06:00 GMT on Boxing Day.
She was wearing pyjamas and a waterproof jacket having left her home in Ponteland, Northumberland, three hours earlier.
Police have searched the River Tyne, and Mrs Allan's family say they are mystified by her disappearance.
The CCTV images show her by the back of the Copthorne Hotel before disappearing from view near the Swing Bridge.
She had walked through Throckley, Newburn and along Scotswood Road, police said.
Ch Insp Stephen Readdie said: "It unknown where she went from this point - she could have gone towards the city centre, across the bridge over towards the Hilton Hotel and Tyne Bridge, or continued along the Quayside following the river.
"Enquiries are being carried out into all of these possibilities.
"She has walked from Ponteland down to the Quayside and although it's early Boxing Day morning, people could have been out walking their dogs, coming or going to work, and the pace she was walking and the way she was dressed may have seemed unusual to anyone who passed her and might have caught their attention."