New Year Honour for sportswoman and scientist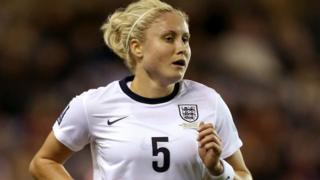 A footballer, a Paralympian, a council leader, and a scientist, are among those in the North East recognised in the New Year Honours List.
Steph Houghton, who captained England to third place at the Women's Football World Cup, was made an MBE, as was Paralympic champion Stephen Miller.
Also made an MBE, was Linda Conlon, chief executive of Newcastle's Centre for Life.
Steven Henig, Labour leader of Durham County Council, was made a CBE.
Durham-born Steph Houghton was honoured for services to the sport.
The 27-year-old said: "It is a massive step in the right direction to see that we are being recognised both at country and club level.
"I would never have thought of receiving an MBE in a million years because my main aim is just to play as well as you can for your team and your country, and everything else comes as a bonus."
Linda Conlon, honoured for services to science and science education, manages the Centre for Life, a £90m complex, which includes a medical research institute and biotechnology businesses.
The 59-year-old also serves on an international committee responsible for the next world science summit, in Japan, in 2017.
Other North East MBE appointments include charity and community volunteers such as Dr Reginald Carr, for his 60 years of service with Blyth RNLI and Cyril Fox for his work with the Jewish community in Newcastle.
Others who were honoured include David Hughes for his charity fundraising, Anthony Harkness for services to Northumberland National Park and Janice Pallas for her work with the NSPCC.