Angler in South Shields cliff rescue after fall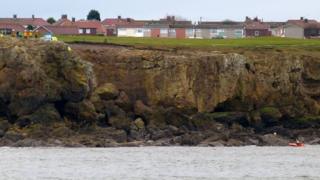 An angler who broke his ankle after falling at the bottom of a cliff had to be rescued by two lifeboats and a helicopter.
A paramedic was lowered down to the foot of the cliff at Frenchman's Bay at South Shields at about 09:30 GMT.
The decision was taken to rescue him on a stretcher aboard Tynemouth RNLI's inshore boat.
He was then transferred to the larger all weather boat from where he was winched onto a Coastguard helicopter.
The injured man was then flown to the Royal Victoria Infirmary in Newcastle.
Adrian Don, spokesman for Tynemouth RNLI, said: "The rescue operation was complicated but our volunteer RNLI lifeboat crew members worked with the paramedics and helicopter crew to effect a prompt and safe rescue.
"We wish the casualty a speedy recovery and hope his Christmas isn't too spoilt."