Morpeth flood gate closed as roads flood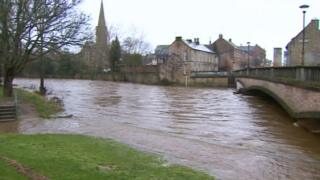 A barrier installed in a Northumberland town after previous flooding has been reclosed ahead of expected heavy rain.
Downpours have left many roads across the region shut or only just passable and flood warnings are in place.
The Met Office issued an amber warning for rain in Tyneside, Sunderland and Northumberland during Tuesday evening.
Morpeth's new flood barrier at Oldgate Bridge, part of £26m defences, was closed on Monday but opened on Tuesday after river levels dropped.
Phil Welton from the Environment Agency said: "We can never prevent all flooding but the defences in place in Morpeth give a very good standard of protection."
Many areas across County Durham had been affected by localised flooding, the county council said.
Lanchester was one of the worst hit areas with sandbags distributed and local farmers pumping water off Front Street.
Shopkeeper Ged Peaden said traffic coming through the village made keeping floodwater out of his business more difficult.
"It was coming over my steps, approximately 7-8 inches high," he said.
"The traffic creates a massive wave and pushes all the water into the shops."
Sunderland Council said Roker Pier remained closed and urged people to take extra care on beaches and the promenade at the city's seafront with high winds and large waves expected.