Baby death father Paul Nicholson arrested in Newcastle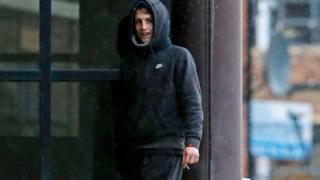 A father who disappeared after being convicted of causing the death of his baby daughter has been arrested.
Paul Nicholson, 20, failed to appear at Newcastle Crown Court on Monday, where he was found guilty in his absence of causing or allowing the death of 16-week-old Tequiilah Burke.
Northumbria Police said he was arrested in the Byker area at about 13:35 GMT. He is currently in police custody.
He is to be sentenced on Thursday along with Tequiilah's mother Victoria Burke.
Tequiilah died in December 2013 after suffering brain injuries.
Both Burke and Nicholson, of Crigdon Hill, East Denton, Gateshead, denied causing fatal injuries, but were found guilty of causing or allowing her death at trial.
The court heard the baby girl died after being fatally injured by one or both her parents during a jealous row.