Sunderland children's services department taken over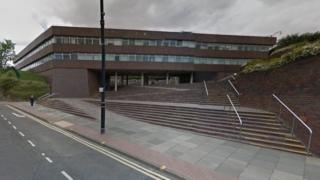 Sunderland's children's services department is to become a voluntary trust, as part of national reforms announced by the government.
In July, Ofsted found there were "serious and widespread failings", and a commissioner was appointed.
Under a new national initiative, departments judged inadequate by the watchdog will have six months to improve or face being taken over.
Sunderland said it had made significant progress under its commissioner.
Two separate case reviews in November found the council's failings may have contributed to the death of one baby and the injury of another.
In the case of Baby Penny, who fell and drowned in the bath in 2014, the council's children's services department did not respond quickly or adequately to concerns raised by health professionals about the child's welfare,
It was also found in the case of injured Baby N, whose father was later convicted of neglect and ill treatment, that information about potential risks to the child was not properly shared.
Under measures announced by the prime minister, departments judged inadequate by Ofsted will have six months to improve or be taken over by high-performing councils and charities.
'Landmark reforms'
David Cameron said: "We will not stand by while children are let down by inadequate social services.
"This will be one of the big landmark reforms of this Parliament... and it shows how serious we are about confronting state failure and tackling some the biggest social problems in our country.
"Together we will make sure that not a single child is left behind."
The national reforms will be similar to those the Government puts in place to tackle failing schools.
They will involve top-performing councils, experts in child protection and charities, who will have the power to oust members of staff.
Leader of Sunderland Council, Paul Watson, said it was "entirely at one with the prime minister in his desire to achieve the best possible outcomes for all our children".
He said: "To this end we have been working closely with his appointed commissioner, Nick Whitfield, since the July Ofsted report.
"Together we have made significant progress, and the emerging solution is developing well and could be called a trust or be a similar entity."