Newcastle foodbank flooded with presents after theft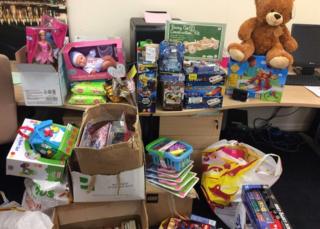 Hundreds of Christmas presents have been donated to a foodbank after thieves stole gifts destined for needy children.
Raiders ripped through wall panels and caused about £2,000 damage at Newcastle's West End Foodbank on Monday.
The three bags of stolen presents were to be included in food parcels.
Project manager Michael Nixon said he was "humbled" by the "absolutely fantastic" public response.
"We're incredibly grateful for the support we've had from the public. Fortunately on this occasion it's ended up with a silver lining. It doesn't always.
"We could never have thought it would be like this."
'It's phenomenal'
About 500 presents have been donated so far with the total expected to be close to 1,000 by Christmas.
Mr Nixon told BBC Newcastle pledges to the Benwell-based operation were coming from as far away as Hong Kong.
"A lady emailed to say she wanted to donate and she is going to give £250 of food, £500 of toys and £250 of hygiene products. I have no idea how she found out about a little foodbank in Newcastle. It's phenomenal.
"We won't wrap any of the presents - mums and dads will have the joy of wrapping them and giving them to their children.
"The presents are being stored in three locations so if we do get burgled again we won't get wiped out."
The theft was discovered on Tuesday after the raiders burglars broke through the metal panels and plasterboard to get in.
The foodbank serves 1,000 people a week, offering hot meals and parcels of essentials.