Pub and post office robbers' jail term increased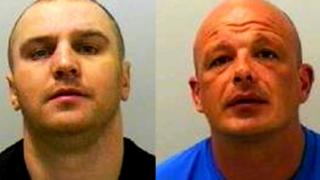 Two men who plotted to rob security vans and raided a post office and pub on North Tyneside have had their "unduly lenient" jail terms increased.
In August, Thomas Bailey, 37, and Paul Oliver, 45, were convicted of a string of offences including robbery and possession of a firearm.
They were later each sentenced to 14 years, with a further four on licence.
Judges at the Appeal Court have now ordered that they serve 19 years, and four on licence.
The pair, from North Shields, stole £9,500 during a raid at a post office in North Shields, and smashed their way into a Tynemouth pub, forcing a woman inside to hand over £21,000 from a safe.
They also planned to target security vans, and carried out sophisticated surveillance on security drivers to track their movements, but were caught out by police before they could act.
The Appeal Court found that their original sentences fell well short of what was necessary, as the separate crimes should have been taken into account.