Newcastle West End Foodbank: Thieves steal children's presents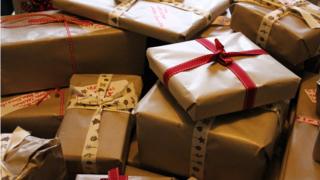 Burglars have stolen Christmas presents from a Newcastle foodbank that were intended for needy children.
Thieves caused thousands of pounds of damage to the West End Foodbank in Benwell when they ripped a hole in the wall panels to get in.
Staff running the facility said it "beggared belief" that the presents had been taken.
They found the office had been "trashed" when they went to open up at 08:30 GMT on Tuesday.
The damage has forced a two-day closure of the foodbank which serves 1,000 people a week, offering hot meals and parcels of essentials.
Project manager Michael Nixon said: "We saw the office was trashed and we looked on in amazement.
"Then we went further into the building and realised there was a draught. Lo and behold there was a hole in the wall.
"One of the 8ft by 4ft steel-clad panels had been ripped off - they must have gone at it with a hammer and chisel.
"Clients are turning up and are horrified, they cannot believe anyone would do this."
The foodbank had asked for donations of toys worth up to £5 for primary school children.
Parents would have received them with their food parcel so they could have a present to give at Christmas.
Northumbria Police have appealed for information.