Woman offered for sex 'not a priority', police tell restaurant staff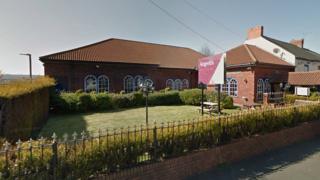 Restaurant staff who were offered sex with a woman in the back of car were told by police it "wasn't a priority", the business's owner has said.
Two men approached the back door of Angeethi in Low Fell, Gateshead, at about 22:20 GMT on Tuesday, saying they had the woman outside.
Restaurant owner Priya Mishra said her staff were "absolutely shocked".
Northumbria Police said it was investigating both the incident and how the force handled the call.
"It's sexual exploitation at the very least," a spokeswoman said.
She acknowledged the call "wasn't handled the way it should have been handled".
'Wasn't urgent'
Ms Mishra said the men "enquired of a member of staff if he wanted to have sex with a girl in the car".
"He was absolutely shocked beyond words," she said.
When he told the men to leave they asked if any of his colleagues wanted to "avail of her services", Ms Mishra said.
"He did go to check whether the girl was all right and whether she was drugged or anything - she seemed to be OK."
When she called 999 Ms Mishra was told, because she was not at the restaurant and could not describe the men, to get staff to call 101 "as it wasn't an urgent matter and the crime wasn't happening then", she said.
Staff called 999 again and were told police could not attend unless they were given the car's registration number.
The call handler has been temporarily assigned a different role not answering public calls while the force investigates.
Supt Christina Barrett said police were "taking this incident seriously".
"We are treating this as an investigation into possible sexual exploitation and are keen to trace this young woman, who we think is aged in her early 20s, to ensure her safety."