Cowpen Crematorium reopens 10 months after blaze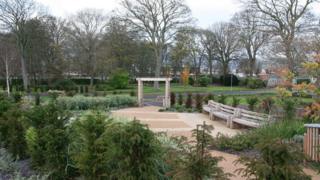 Northumberland's only crematorium, which was gutted by a fire, has reopened after being closed for 10 months.
The blaze caused significant structural damage to the roof of the building and equipment was destroyed at Cowpen Crematorium in Blyth on 12 March.
Since the fire cremations have been carried out at facilities owned by neighbouring local authorities.
Northumberland County Council said the crematorium was now fully operational.
Councillor Susan Davey said: "It's obviously been of concern locally and across the county that Northumberland's only crematorium has been out of action for several months.
"We understand this has been an emotional issue for many people but I'm pleased that families will once again be able to use their local crematorium."
The council said there was no evidence the fire was started deliberately and indications show the most likely cause the transfer of heat from machinery and flues into the roof structure.
The cost of the repairs, which are still being finalised, could be more than £1m but will be covered by insurance, the council said.