Storm Desmond: Clean-up under way in Corbridge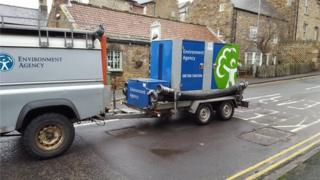 A clean-up operation to pump floodwater out of homes is under way in Corbridge after the River Tyne reached record levels following Storm Desmond.
More than 70 homes were evacuated as six weeks' rain fell in 24 hours.
Flood warnings and alerts for the area have been removed and the river is expected to return to normal levels, the Met Office said.
The Environment Agency is checking the flood defences in the Tyne Valley to see if repairs are needed.
The river rose to a record 19ft (5.79m) as up to six inches (150mm) fell across Northumberland at the weekend.
Tyne and Wear Fire and Rescue Service responded to 75 emergency calls over the weekend to deal with "dangerous structures" including collapsed walls and chimneys caused by the torrential rain.
Bob Bailey, from Corbridge, whose home was flooded said he knows what to expect, after his home also flooded in 2009.
He said: "The scene inside the house will be horrendous, there will be brown mud.
"Everything will be in a heap in the corner where the water's gone out - it will look like a bomb attack."
---
Storm Desmond: facts and figures
Six weeks' worth of rain fell in a 24-hour period
Six inches (150mm) fell across Northumberland
85 homes in the Tyne Valley were flooded
The River Tyne rose to 19ft (5.79m) and was the highest recorded levels since records began in 1998
There is still a flood alert for the River Tyne as low lying land, roads and properties are still being affected by flood waters ponding behind flood defences
---
Terry Clarke, who runs Finale Shoe Shop in Corbridge with his wife Lynn, said he had thought the flood defences were "fantastic" but they "didn't stand up the job" after this weekend's weather.
Marie Fallon from the Environment Agency said the flood defences provided "fantastic protection" during heavy weather a few weeks ago.
The weekend's "exceptional weather" saw them overtopped and there was a "smaller number" of properties flooded than if the defences were not in place, she said.