Tyne, Wear and Tees levels dropping in Desmond wake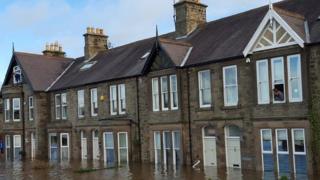 River levels in some parts of the North East are starting to drop in the wake of Storm Desmond.
Two severe flood warnings remain in place for Corbridge where the Tyne hit record levels, but residents of 73 flooded houses which were evacuated may be allowed home later.
On the Tees, warnings of floods in Croft have been withdrawn after the river peaked at about 02:00 GMT.
Warnings have also been removed from the Wear in Stanhope and Frosterley.
The BBC is running a Local Live page providing updates on the weather and flooding.
Water levels on the Wear at Sunderland Bridge and Durham were expected to peak mid-morning, two flood warnings remain in place although they are not severe.
Levels have peaked but remain high on the Tyne at Hexham, Prudhoe, Ovingham and Falstone and on the River Reed at Otterburn.
River levels will remain high throughout the day at Chollerford, the Environment Agency said.
Northumberland County Council is warning motorists to "exercise extreme caution" as prolonged rainfall and severe winds have left debris, fallen trees and heavy surface water on roads.
The Environment Agency said the Tyne at Corbridge reached 19ft (5.76m) which is the highest level recorded by the gauging station since it was installed in 1998.
Up to 6in (150mm) of rain fell in places across Northumberland in the last 24 hours, the average rainfall for December is around 4in (100mm).
Although more than 70 homes and businesses were flooded in Corbridge the Environment Agency said 2,700 properties across the region were protected by flood defences.