Sixth suspected Legionnaires' case at Boldon Faltec factory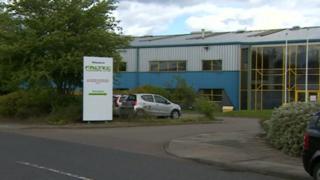 A sixth suspected case of Legionnaires' disease is being investigated at a South Tyneside factory.
Faltec Europe Ltd in Boldon closed down its cooling towers in June, after four workers and a nearby resident contracted the disease.
Public Health England (PHE) said a fifth worker was currently receiving treatment in hospital. The source of the infection is not yet known.
The company said it was cooperating with the Health and Safety Executive.
A spokesman for Faltec Europe Ltd said: "We were informed yesterday that a current agency worker is in hospital and has been diagnosed with Legionnaires' disease. Our thoughts are with this worker and his family and we wish him a speedy recovery.
"In relation to this, following recommendations from our water management company we have carried out a number of precautionary and proactive actions on site."
PHE North East consultant, Dr Kirsty Foster, said: "We do not know where the man acquired his infection, but are investigating all possible sources of infection, including his workplace at Faltec Europe Ltd in Boldon."
PHE said health experts were working with South Tyneside Council's environmental health team to investigate.