Seaton Delaval fire: Smoke closes roads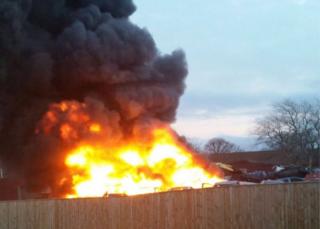 Smoke from a large scrap yard fire in Northumberland forced the closure of several roads and could be seen for about three miles.
Double Row in Seaton Delaval was shut in both directions between Lysdon Avenue and Dorchester Court.
Police asked motorists to avoid the area. Smoke could be seen as far as away as the A19.
The fire service said there were no hazardous materials at the yard, which houses about 70-80 scrapped cars.