Reykjavik proposal couple find chance photographer on internet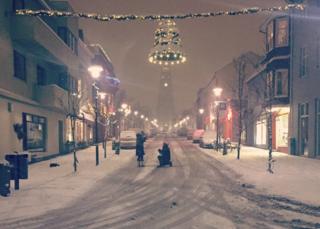 A photographer who took a chance picture of a marriage proposal has been tracked down on the internet.
Jessica Bowe captured the moment Michael Kent went down on one knee on an Icelandic street to ask Fiona Newlands from Berwick to marry him.
She offered the couple a copy of the image but Mr Kent, from Consett, County Durham, gave the wrong email address.
He said it had been "disheartening" to think they might not be able to get hold of the picture.
Jessica Bowe, who had been photographing snow showers on Skólavörðustígur in her home city of Reykjavik, said "sometimes you're just in the right place at the right time".
"I gave them a moment and then asked if they would like to have this picture as a memento," she said.
"The man's hands were trembling as he entered his email address on my phone.
Mr Kent later posted a plea on Facebook to find the "random woman", whose contact details he had not taken.
Ms Bowe also took to social media with her picture and the trio were eventually put in touch with each other.
The couple have not started thinking about the wedding guest list but Mr Kent said Ms Bowe was "more than welcome" to visit.
Ms Bowe said she did not expect an invitation, much as she would "love to crash their wedding - randomly, just as I did taking the photo".