Hadrian's Wall discovery centre construction under way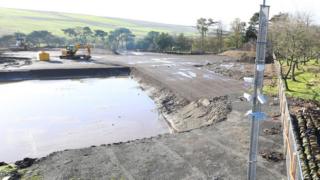 Work is under way in Northumberland to build a £14.2m landscape discovery centre.
The visitor centre and youth hostel, called The Sill, will be based on Hadrian's Wall near Hexham.
Expected to create more than 100 jobs, it will feature educational and research facilities and a youth hostel.
A Northumberland National Park Authority spokesman said the facility will enable visitors to reconnect with the surrounding landscape and heritage.
Replacing facilities from the 1960s at Once Brewed, near Hexham, construction has now begun at the site with demolition of the current National Park Visitors' Centre and Youth Hostel.
The centre, due to be completed in the summer of 2017, is expected to bring in about £5m and attract 100,000 visitors each year.