Metro passengers support racial abuse victim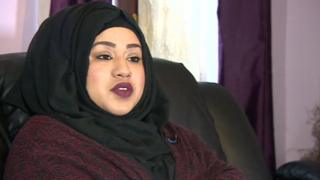 A woman has thanked passengers who intervened when a stranger on the Tyne and Wear metro verbally abused her and her sister because they are Muslims.
Ruhi Rahmani said they were subjected to threatening and racist comments while travelling between Newcastle and Whitley Bay on Saturday.
However, fellow passengers intervened and ordered him off the train.
Northumbria Police said it had received a report alleging racist abuse on a Metro train and was investigating.
Mr Rahmani said: "We'd sat down and about ten minutes later this man came up from nowhere.
"He said 'get off the seat now, get up, this is my country, my country doesn't kill'.
"Normally we would say something back to defend ourselves, but this time we didn't have to because everyone was there and they took it up."
'Love and support'
Passengers, including football fans, told them to remain in their seats, and shouted at the man to stop, she said.
"He was saying 'oh, do you want them to bomb the place', really annoyed because people were sticking up for us.
"But they were saying you need to leave, you need to get off. And then they all clapped when he did.
"It was just really lovely getting the support from everyone."
She later posted on her Facebook page: "So much love and support. You passengers that defended me and my sister were my angels, feel like we were one big family."
Sharon Kelly, managing director at DB Regio Tyne and Wear, which operates the Metro on behalf of Nexus, said: "Incidents of this nature are rare on Metro and they will not be tolerated.
"A police investigation is now under way and we will work with them to help trace the culprit."