'Don't give money to beggars,' Newcastle shoppers warned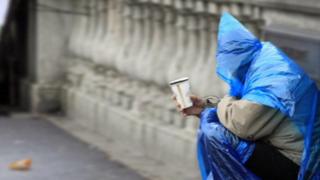 Almost all money given to beggars in Newcastle city centre is being spent on alcohol and drugs, a charity has warned.
People begging in the city "can earn £200-300 a day" - with the vast majority going to people who are not actually homeless, Changing Lives said.
Northumbria Police receives about 160 complaints about beggars every month.
The city council has launched a campaign urging people not to give handouts.
Stephen Bell, chief executive of Changing Lives which provides support to vulnerable people, said: "Our frontline workers have seen four beggars come in one car and then go and get their pitches.
"People are starting to get aggressive and they see this as being very lucrative.
"Our evidence is people are using the money they receive from begging to either fund their drug addiction or buy alcohol. Never give money to beggars."
Newcastle City Council said 96% of people summonsed to appear in court for begging this year had a registered home address.
Launching the No Need to Beg campaign, city councillor Nick Kemp said there was evidence shoppers are being intimidated and businesses affected.
Rev Nicholas Buxton, of St John the Baptist Church on Grainger Street, said: "Very often, they're essentially exploiting people's good will to get cash to spend on drink and drugs.
"There are certain spots nearby where people will sit, they will take turns, and be quite organised."
Mr Buxton said he regularly had to clear drugs paraphernalia from the churchyard - which people will "almost certainly" have bought with money from begging.
However, Centrepoint, the national charity which supports homeless young people, said: "Of course councils and local residents can decide what they think is right for their city, but what we can't lose sight of is that in the long term people who are on the streets need the support of their local councils to find a safe place to stay."