Northumberland rare plant seeds saved to prevent extinction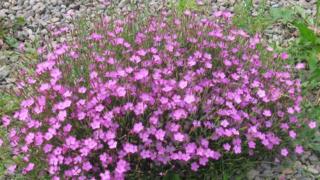 Seeds from rare plants in a national park have been collected to stop them dying out altogether.
A team from the Millennium Seed Bank at Royal Botanic Gardens Kew has conserved wildflower seeds from species such as Maiden pink and Northern hawksbeard found in Northumberland.
National Park ranger Shaun Hackett said there was a "danger that some of them could be lost forever".
Kew said the county had been "poorly represented" in its seed stores.
Collections coordinator Stephanie Miles said saving seeds provided an "option for the future".
"In 20 years from now who knows how many species will be critically endangered in the UK?" she said.
Northumberland had one of the "world's richest and most unspoilt natural habitats with rare plant-life thriving", but many species were vulnerable to changes in climate, habitat and land management, Mr Hackett said.