'Black dog strangler' Philip Whiteman took own life in prison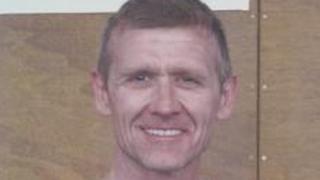 A prisoner dubbed the "black dog strangler" after killing a man he thought was a dog, took his own life in jail, an inquest has concluded.
Philip Whiteman had spent 25 years in secure hospitals or jail when he took the fatal dose of his diabetes medication insulin at Frankland Prison in Durham, in November 2014.
He died three weeks later at the University Hospital of North Durham.
A inquest jury at Crook Civic Centre, found his death was a suicide.
Whiteman killed his cell mate in Ashworth Hospital, Liverpool, in 1990, with a dressing gown cord, saying he believed the victim had turned into a dog.
Note left on bed
He was jailed for life after admitting manslaughter on the grounds of diminished responsibility.
He was treated in secure hospitals, but after he absconded from St Nicholas's Hospital medium secure hospital, Newcastle, in January 2013 he was transferred to prison.
The inquest heard how the 46-year-old was found unresponsive in his cell after taking the overdose. He had left a note on his bed.
The hearing was also told he had received care from Tees, Esk and Wear Valleys NHS Foundation Trust, which provides mental health services at the prison.
However, the jury concluded there was no evidence of failings in his care.