Capsized Ocean Way co-owner raises inspection concerns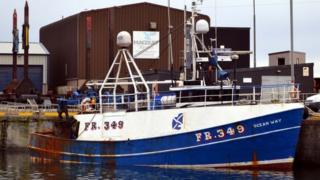 The co-owner of a fishing boat that sank, claiming the lives of three men, has said a report into the accident raises concerns over inspections.
Skipper James Noble and two Filipino fishermen died after the Fraserburgh-registered Ocean Way capsized in rough seas 100 miles off Tynemouth last year.
The Marine Accident Investigation Branch found issues with ports which were designed to drain deck water.
Billy Edwards said issues should have been flagged up during inspections.
The MAIB also said an emergency transmission from the trawler did not give its exact position and an opportunity was missed to send a rescue helicopter to the scene earlier than it was.
The vessel was last heard from 100 miles east of the Farne Islands on 2 November last year.
Following a search operation, Mr Noble, who was originally from Fraserburgh, was winched on to a helicopter but later died.
Two Filipino crewmen were found clinging to lifebuoys but the bodies of two other crew, Michael Pulpul and Jonito Antonio Jr, were never found.
The report concluded it was unlikely the delay affected the overall outcome of the rescue operation.
The report said: "An underwater survey of the wreck and from the evidence obtained it was concluded that the vessel had broached and capsized in heavy following seas when its stability had been reduced by the adverse effect of retained water on deck."
Mr Edwards, the Ocean Way's co-owner, from Fraserburgh, told the BBC the accident raised concerns over the inspection regime itself.
The MAIB is recommending that the Maritime and Coastguard Agency (MCA) ensures that fishing vessels are tested for stability and have updated computer equipment that signals their exact position.
An MCA spokesperson said it was developing a new code of safety for fishing vessels under 24m which would review the requirements of survey and stability.