County Durham teaching assistants face holiday pay cut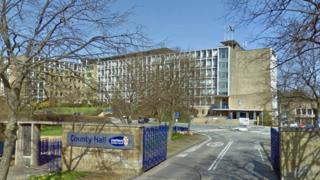 A group of teaching assistants could have their salaries cut by up to 25% by not being paid in school holidays.
Durham County Council proposes paying 2,700 staff only for term-time hours.
Belmont Cheveley Park Primary School teaching assistant Helen Pace said goodwill would be lost and staff would stop working "unpaid" overtime.
The council said the plan would "remove any inequity as payment would only apply for hours worked as with other school and council employees".
Ms Pace said staff would lose between £1,000 and £5,000 a year.
'Fairness and equality'
Schools and children would "struggle" if teaching assistants stopped staying behind, working through lunch hours or coming in early, she said.
"I think there's a massive element of goodwill within our work so, if we're asked to cover lessons at a drop of a hat, we'll do it, we don't ask for any extra pay."
The council agreed a cuts package of £16.3 million earlier this year and the authority believes £250 million will have to be cut from its budget by 2019.
Head of human resources Kim Jobson said there was a very limited case for paying teaching assistants to be in school when there were no pupils there and the changes would "ensure fairness and equality".
"Schools are being encouraged, where staff are needed, to offer up to 37 hours work a week to teaching assistants who only currently work 32.5 hours, so they do not see a reduction in their term time wage," she said.
But Ms Pace said she earned more working as a waitress.
No final decisions have been made and the council is consulting the unions, it said.