Fly-tipping menace means Benwell parent 'fears for son's life'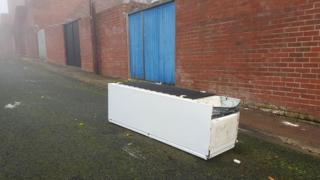 People living in an area of Newcastle have called for tough action to be taken against fly-tippers.
General rubbish, as well as larger items including mattresses, freezers and electrical goods, have been dumped in the Benwell area of the city.
One local said the situation had become so bad he feared for his son's life.
Newcastle City Council said a number of measures, including larger communal bins, had successfully tackled similar problems in other parts of the city.
But some Benwell residents described the situation as "a disgrace".
Andrew Pringle said: "If I take my boys out I don't know what we're coming back to. There's things like needles outside the back door.
"People just dump their rubbish, don't put it in bins, or say they haven't got them.
"It's getting worse and worse, I fear for the bairn's life."
Amanda Phipps said: "It's terrible, I've got two boys in wheelchairs and you've got to move stuff out of the way when the bus comes to pick them up.
"Every time there's something else - mattresses, cookers, fridges, it's an eyesore.
"There's glass all over the place. Kids can't go out to play."
The council has recently introduced larger, lockable communal bins for residents.
Nick Kemp, the council's cabinet member for neighbourhood services, said: "It's been successful in Sandyford and areas where there have been large problems with bins not taken in."
Measures to crack down on fly-tippers included CCTV and neighbourhood teams monitoring the area.
He added: "If we have people coming along and dropping or tipping rubbish in the back lanes of Benwell because they feel they can, we will find them and it will lead to enforcement."