Northumberland coal mine site occupied by climate protestors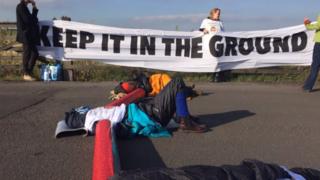 Climate protesters chained themselves to a Northumberland mine.
The "Matt Ridley's Conscience" group occupied Shotton surface mine in Cramlington on Conservative peer Viscount Matt Ridley's Blagdon Estate.
The campaigners blocked the road, locking their arms into red arm tubes, as part of a protest calling for an end to coal mining to protect the climate.
A spokesman for operator The Banks Group, said the family-owned business was "proud" of its mining operations.
The group of about 25 protestors said the "vast majority" of coal has to stay in the ground in order to prevent "dangerous climate change" and called for an immediate end to opencast mining.
They added they wanted the government to phase out the use of coal-fired power stations by 2023.
'Foolhardy attempts'
One of the activists, Ellen Gibson, said: "We need to keep 80% of all known fossil fuels in the ground if we're to prevent catastrophic climate change, and coal is the dirtiest fuel of all."
Viscount Ridley, who owns the Blagdon Estate, is a self-proclaimed climate change sceptic, whose most recent blog - and an article in the Times - argued for the "surprisingly large benefits of carbon dioxide emissions".
The mine is run by Banks Group and its environment and community director, Mark Dowdall, said the mining operations contributed more than £35m to the North East economy every year.
He said: "Coal is and will remain a central part of the UK's energy mix for the foreseeable future.
"Individuals' actions such as blocking roads across the site and attaching themselves to equipment pose considerable danger to the health and well-being of both our own staff and the people involved, and we're very grateful that no-one has been injured as a result of these foolhardy and illegal attempts to disrupt operations at a legitimate place of work."
Northumbria Police said officers were in attendance at the site to ensure it remained "peaceful and safe". It added the protest had concluded by 15:00 GMT with nine people being arrested.
The mine has about six million tonnes of coal to be recovered and supports 150 jobs, according to the company which has also submitted a planning application for a new opencast coal mine near Druridge Bay.