Former Harbottle Surgery doctor investigated for fraud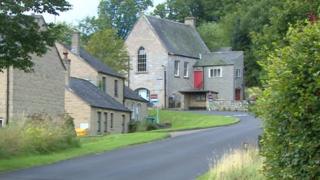 The doctor who ran the country's most rural surgery before it closed is being investigated over allegations of fraud, the BBC has learned.
NHS England has confirmed Dr Rina Miah is being investigated but would not say why.
But it also stressed the investigation was not linked to the closure of Harbottle Surgery in Northumberland in August.
Dr Miah strongly denies any allegations of fraud.
Her solicitor said: "Dr Miah has not been informed about any investigation into fraudulent conduct by her, so she believes that it is completely untrue that there is such an investigation.
"She has done nothing wrong."
Although they would not disclose details, NHS England did confirm Dr Miah is being investigated by NHS Protect which specialises in fraud, and the BBC understands the investigation is linked to allegations of fraud.
Harbottle Surgery shut after Dr Miah said she could no longer meet patients' needs due to problems finding staff and with funding.
As a result, NHS England said Dr Miah's contract was terminated due to concerns over patient safety.
Dr Craig Melrose from NHS England, Cumbria and the North East said: "There is an investigation ongoing with NHS Protect around Dr Miah.
"It is not connected to the termination of the contract at Harbottle."
'Difficult to access'
A spokesman for NHS Protect said it would neither confirm nor deny if an investigation was ongoing.
Patients of Harbottle surgery were told it was going to shut just two weeks before it was closed.
The surgery served a large rural area in Northumberland which includes the Upper Rede and Coquet Valleys.
Residents said the next nearest surgery in Rothbury would be difficult to access, particularly in winter, due to the winding country roads.
Last week NHS England announced the Rothbury practice would be providing some services in Harbottle from 19 October.
This article is subject to a legal complaint. In December 2015 the NHS confirmed the investigation had been concluded and closed with no further action