'Dangerous' and fake goods imported to Newcastle seized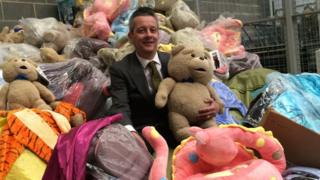 More than 1,000 fake and "dangerous" goods heading to Newcastle have been impounded.
The haul of toys, children's fancy-dress costumes, hats, onesies, teddy bears and other soft toys will be destroyed, Newcastle City Council said.
The items were seized by National Trading Standards officers at the Port of Felixstowe.
Council cabinet member Nick Kemp, said he was "relieved they did not end up in the hands of young children".
"The importation of fake goods goes up in the run-up to Christmas, so to get such a substantial haul like this so early in the season is a great success," he said.
Some of the items were hazardous while others had fake trademarks, the local authority said.
They had been ordered over the internet by a Newcastle businesswoman and were shipped from China.
No action has been taken against the woman.