Durham Police files shed light on notorious crimes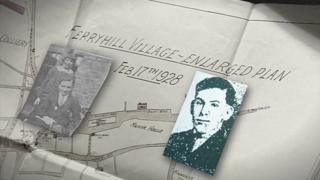 What can century-old murder case files tell us about the way policing and society have changed?
The killing of bank worker William Abbey - stabbed to death in Ferryhill's Black Bull pub - was a gruesome attack but the guilty man was quickly hanged for his crime.
His murder in 1928 was one of the most notorious cases in Durham's history.
Chris Lloyd, deputy editor of the Northern Echo newspaper, says: "The whole pub was the Black Bull and they let out a corner to Lloyds Bank and it was in there poor old William Abbey was murdered."
His killer was Norman Elliott. He was caught red-handed with blood-stained bank notes and hanged within six months.
But Abbey's dying man's last words were apparently "A tall man did it" and Elliott was only short.
Mr Lloyd says: "If you had been stabbed brutally through the neck with a cobbler's knife you wouldn't be enunciating particularly clearly with your last breath.
"So did he say 'A tall man did it,' or did he say, 'It was Norman that did it,'."
That is not the only mystery surrounding the case.
Mr Lloyd adds: "Four years earlier in Spennymoor, just a couple of miles down the road, a one-legged cobbler had been murdered in a very similar way - bludgeoned over the back of the head and stabbed with a knife.
"People still say locally that Elliott, the man who was hanged, was heard saying, 'I bet if they get the man who killed the bank clerk they'll get the man who killed the cobbler'."
Durham is one of the oldest forces in the country and has a treasure trove of information stored over three floors - a total of about 700,000 crime files.
So do they shed any light on a connection between the Ferryhill and Spennymoor murders?
Archivist Teresa Ashforth says: "You've got a letter from [Elliott's] defence barrister that basically says, 'If approached by the right person Norman Elliott might be induced to confess to another murder,' which refers to the Spennymoor killing in 1924.
"The next letter we've got comes from the governor of the prison. He's saying, 'Elliott seems to be holding some hope of a reprieve and so does not realise he is doomed'.
"So until he realised that fact there was no hope of him answering any questions on the 1924 murder."
Elliott's rapid execution meant he was never questioned about the cobbler's death and the crime remains unsolved.
Most of the files do not have the notoriety of the Black Bull murder, but what they do illustrate is how attitudes and policing have changed.
"Victim care and working with witnesses have improved immensely," says Det Sgt Dave Wilkes, of Durham Police.
"Attitudes were different. It's just where society was at the time."
In the 1940s, when prostitute Gladys MacFadyn was killed in Stanley, her 'Wanted' poster had an image of her on the mortuary table.
"Clearly that would never happen now," says Det Sgt Wilkes. "Can you imagine the impact on the family?"
She was described as "looking like a fairground or flower seller-type".
"They're already tainting people's views of that poor lady - 'Oh, she's just a flower seller'. Is that the best way to get evidence and people to come forward? It wouldn't happen now."
A sailor called Albert Little was convicted of Gladys' killing and jailed for 10 years.
A case which made national headlines involved Mary Wilson, also known as the Merry Widow of Windy Nook. She lived in Gateshead which was then part of Durham Constabulary's area.
She poisoned four men for their money including two husbands within just days of getting married to them.
At one of her wedding receptions, her friend was apparently heard to say: "What shall we do with these sandwiches and cake?"
Mary, so the story goes, laughed and replied: "We'll keep them for the funeral."
So what do the files tell us about the Merry Widow and how justice caught up with her?
Ms Ashforth says: "There was an awful lot of talk and it actually first came to police notice because of gossips from the town.
"Not only were the gaps between the weddings short, the marriages themselves were short.
"Looking at the statements I don't believe she ever thought she'd be caught."
Having exhumed the bodies of two of her husbands, the key to cracking the case was the emerging science of forensics.
Ted Evans, of Durham Police, says: "At the post-mortem wheat grain and what the pathologist thought was phosphorus were identified and these are constituent parts of rat poison. You could just buy that at the local chemists.
"Forensics was absolutely crucial. It was their skills and abilities which created the evidence to put before the court. That was acknowledged after the trial."
She was sentenced to death and would have been the last woman hanged in Britain, but at the last moment her sentence was reduced to life imprisonment.
She died four years later, aged 70, in 1963.
Inside Out North East and Cumbria is broadcast on BBC One at 19:30 BST on Monday 14 September and nationwide on the iPlayer for 30 days thereafter.