Harbottle Surgery patients accuse NHS of compromising care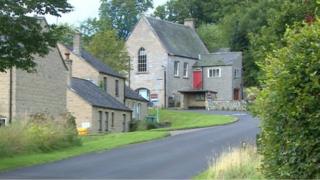 NHS bosses were accused of compromising patient care by villagers whose GP surgery closed suddenly last week.
Harbottle Surgery in Northumberland shut on Friday but patients say alternatives suggested are up to 30 miles (48 km) away.
At a public meeting on Tuesday, NHS England seemed minded not to replace the GP and reopen the surgery, patients said.
NHS England said it needed to "secure a service which is really sustainable".
Commissioning director Christine Keen, said: "We're very keen that we don't find ourselves, or the patients in this area don't find themselves, in this position again."
The surgery's "exceptional" closure was prompted by the decision by Dr Rina Miah to withdraw from her contract last month, Ms Keen said.
'Scandalously short notice'
Independent health watchdog Healthwatch Northumberland has written to NHS England to ask why Dr Miah did not work her notice and what options the body explored prior to closure.
The authority's assistant medical director for the region Tim Butler, said she had been allowed to leave sooner after saying she could not provide a safe service to patients.
In another letter to NHS England, parish councillors accused it of closing the practice "at scandalously short notice and without due consideration for the needs of its patients in a very sparsely populated rural area".
A long-term locum at the practice, Dr Ian Brunt, who was given notice earlier this year after complaints regarding punctuality, said he would be willing to return to work at the surgery.
NHS England said its dealings with him were private.
It has advised the surgery's 800 patients to register with another practice.
Healthwatch said some had been refused registration at alternative surgeries because they live outside their practice catchment area.