Thousands of trout released into Skelton Beck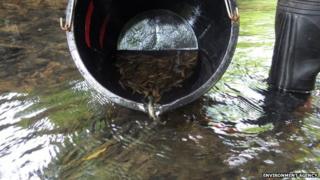 Thousands of sea trout have been released into a Teesside beck which is being brought back to life after it was polluted with pig slurry.
Skelton Beck, between Guisborough and Saltburn, was hit in March 2012 when the slurry stripped the water of oxygen, killing large numbers of fish.
In the latest phase of the agency's restocking programme, 26,000 young sea trout were introduced.
They were reared at its Kielder Hatchery in Northumberland
The scheme will eventually see nearly 85,000 fish released into the beck.
Fisheries officer Paul Frear said: "Pollution incidents can decimate watercourses and so we occasionally need to give nature a helping hand by stocking fish which otherwise can take decades to naturally re-colonise rivers and streams."