Ashes casket unearthed in Chester-le-Street garden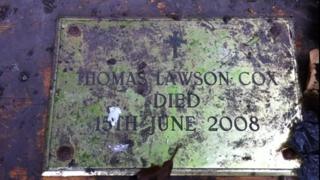 A County Durham man was left "baffled" after a stranger's ashes were discovered buried in his back garden.
Bill Stephenson's gardener unearthed a box with a plaque saying "Thomas Lawson Cox, died 15 June 2008".
Mr Stephenson, who has lived at the same house in Chester-le-Street for 46 years, said he did not know the man.
After failing to discover anything about Mr Cox, he asked Durham Police for help and they have now managed to traced the dead man's brother.
Mr Stephenson, a 70-year-old community volunteer, said: "We are absolutely baffled.
"Why would somebody bury their relative's remains in a stranger's garden? Why not just scatter them?
"I have no knowledge of him whatsoever. We have been looking at the deeds of the houses on the street and there's nothing there."
He added: "It was a shock. "At first I thought someone had played a prank and maybe it was just the top, stuck on the soil.
"Then I examined it, and it was a full one and as far as I can tell it is intact.
"I can only assume someone has come and dug a hole in my garden while I've been away or during the night."
For the time being the box cannot be moved as that would require the authority of the Ministry of Justice.
A Durham Police spokesman said: "The 'casket' is still in Mr Stephenson's garden. We gather it cannot be removed without the appropriate paperwork from the Ministry of Justice.
"A local funeral director has indicated they are willing to assist in taking the casket back to the crematorium where Mr Cox was cremated.
"The brother is not sure how the container ended up in this garden, but is grateful he has been made aware so he can now find a more appropriate resting space in due course."