Wylam Brewery park plan submitted to Newcastle City Council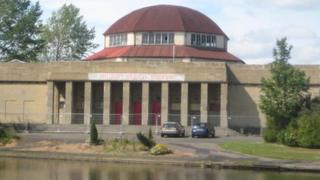 Plans to turn a former military vehicle museum in a Newcastle park into a brewery and bar have been submitted to the city council.
More than 100 people have objected to Wylam Brewery's plan to take over The Palace of The Arts in Exhibition Park.
They fear the brewery would create extra traffic, spoil the park's character and attract rowdy drinkers.
But more than 80 people are supporting the proposal with the brewery saying the bar would be small and civilised.
The Palace of the Arts was built in 1929 and went on to house the Military Vehicle Museum before its closure in 2006.
It was then bought and refurbished by former Newcastle United chairman Freddy Shepherd's company.
'Oasis of calm'
One objector said the plan would turn an "oasis of calm into a light industrial area".
Tony Waterston of Jesmond Residents Association told BBC Newcastle: "There are certainly benefits to bringing this building into use; we would like to see that. But this is a park where there is no traffic at all; it is a tranquil place.
"The social activities and amount of drinking could be a concern as well."
Dave Stone from the brewery, currently based in Heddon-on-the-Wall, said: "In the height of the season there are 20 vehicle movements an hour in the park. Our plan adds six to that."
He also said movement of big delivery trucks would be tightly controlled while the bar and events, including cinema nights and a vintage fashion fair, would be organised to create minimum disruption.
A decision is due to be made in the next few weeks.