Nissan Infiniti: Sunderland plant creates 300 new jobs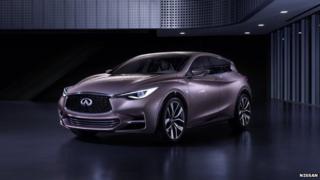 Nissan is creating up to 300 jobs at its plant in Sunderland to work on the car firm's luxury Infiniti brand.
The new recruits will work on the production of the Q30 model - the first large scale manufacturing of a new car brand in the UK for 23 years.
This will be followed by a second smaller Infiniti model, the QX30.
The company, which employs nearly 6,800 staff, said it was the "beginning of a new era". The cars will be targeted at the Chinese and North American markets.