'Sexual predator' head teacher's husband 'felt pushed aside'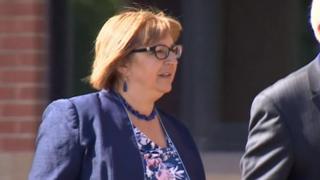 The ex-husband of a head teacher accused of seducing two underage boys felt "pushed aside" at the time of her alleged offences, a court was told.
Eamonn Toland was married to Anne Lakey, described as a "sexual predator" by the prosecution, for two years until 1988, Teesside Crown Court heard.
Ms Lakey, 55, from Stanley, denies 13 counts of indecent assault on two teenage boys in the late 1980s.
Mr Toland told how he almost caught his wife in bed with one of the boys.
'Mixed-up boy'
The prosecution alleged the child, who was aged 13 or 14 at the time, was groomed for sex by Ms Lakey while her husband was away from home.
The jury heard a statement by Mr Toland detail how their marriage had started well but deteriorated after he began travelling for his work.
He also recalled the complainant, who was in a group which would sometimes visit their home, was "quite a mixed-up boy, troubled, angry with the world".
That boy told a friend he had sex with Ms Lakey, the jury heard.
The friend, who cannot be identified, recalled the conversation happened when they were 13 or 14.
"He was just his normal self, he said it quite matter-of-factly," the witness said.
The man said his childhood friend would call Ms Lakey "mummy".
She is also accused of indecently assaulting another boy when he was 15.
The trial continues.