Legionnaires' disease outbreak at Boldon Faltec factory traced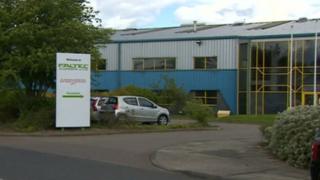 The cause of an outbreak of Legionnaires' disease at a South Tyneside factory has been traced to two cooling towers on the site.
Four workers at Faltec in Boldon and one resident whose garden overlooks the factory have contracted the disease.
The firm said all cooling towers were being closed down and replaced with sealed water chiller units which do not present a risk of Legionella infection.
The work is expected to be completed by Wednesday.
In May, Public Health England (PHE) said there had been four confirmed cases of the disease since October.
The fifth case was identified in a person who works at the factory at the weekend. They required hospital treatment but were later discharged.
Dr Tricia Cresswell, from the North East PHE Centre, said: "The incident control team was concerned to hear that Legionella bacteria have been identified in the two cooling towers.
"Closing down all the cooling towers removes any risk from that source."
Amanda Healy, director of PHE for South Tyneside Council, said: "Our priority continues to be to protect the health of local residents and factory workers. I have been assured that the shutting down of the cooling towers definitively removes any risk from that source.
"We are not aware of any new cases infected since the factory first took action to treat and disinfect water sources, but we are continuing to work with HSE and PHE to monitor the situation closely."