'Mistakes made' in care of killer Alan Cooper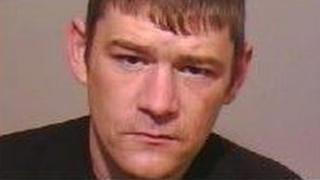 The care of a mentally ill man who went on to knife his teenage nephew to death "fell below standard", an investigation has found.
Alan Cooper was jailed for life for killing 14-year-old Jordan Cooper in Washington, Wearside, in February 2011 in a row over a mobile phone.
He admitted manslaughter on the grounds of diminished responsibility, but was found guilty of murder.
The health trust involved said it has since made a number of changes.
At the time of the murder Cooper was receiving care from Northumberland, Tyne and Wear NHS Foundation Trust.
NHS England, which commissioned the review, found Cooper had "complex needs and a significant history of violence".
Cooper, who lived with Jordan, stabbed him seven times after an argument broke out over the teenager using his mobile phone.
The judge at Newcastle Crown Court said Cooper, then 32, must serve a minimum of 22 years.
His mother, Susan Smith, had tried to defuse the row.
She said she was watching television with Jordan when Cooper burst in and attacked him.
The independent investigation was carried out by Niche Patient Safety. In its report, Cooper, is referred to as Mr E.
It concluded "all involved agencies failed to adequately identify his high risk of reoffending" and that, based on previous offences, it was "highly predictable that he would have been involved in another impulsive violent incident".
Karen Conway, spokeswoman for NHS England North, said: "The final report explains where the care provided to Mr E could and should have been better. It highlights a number of issues around roles, responsibilities and working practices which fell below standard.
"The mental health trust needs to scrutinise fully the areas highlighted for improvement."
Dr Douglas Gee, from Northumberland, Tyne and Wear NHS Foundation Trust said: "We fully accept the findings of the report and we sincerely apologise for the shortcomings identified within it."
He said the trust had made "significant changes" to the way it delivered its community and inpatient services, including the introduction of a street triage team in which nurses work alongside police officers.
"Individual teams now also have strong links with their local police team and the trust's safeguarding staff are also available to help and support healthcare professionals to access information," he said.
"We have already taken steps to implement the recommendations of this report and will now review what additional actions are needed and ensure that any outstanding issues are addressed.
"Our thoughts remain with the family."