Doctor Who Tardis lift doors for Durham Police HQ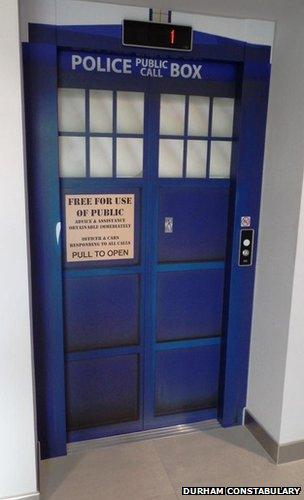 Lift doors designed to look like the Tardis from Doctor Who have been installed at new police headquarters in Durham.
A spokesman said customising the lifts showed the force could be "professional and still have a sense of humour".
Staff moved into the new £14m building next to its old base at Aykley Heads in Durham City last Autumn.
The tweet attracted one complaint saying the doors were a "waste of taxpayers money".
The six lifts were covered with vinyl wraps, not hand painted, and the cost had been "pretty modest", the spokesman for Durham Constabulary said.
Personalising the headquarters was a "bit quirky" and a "talking point" for anyone who came into the building, he added.