Hundreds gather for Alnwick Shrovetide game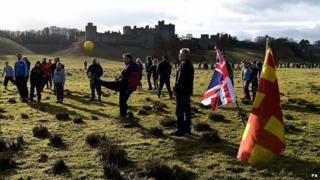 Northumberland's annual Shrovetide football match has attracted about 500 spectators.
Onlookers gathered to watch Alnwick's version of the Shrove Tuesday tradition, started in the late 1800s.
The clash, between teams from two rival parishes, is usually started by the Duke of Northumberland throwing the match ball from Alnwick Castle.
This year's match was kicked off by relatives of Eric Hately, a long-time Shrovetide player who recently died.
The match between the parishes of St Paul and St Michael takes place on land surrounding the castle.
Goals, known as hales, are 440 yards (402 metres) apart and the game ends when one team scores twice. This year St Michaels emerged victorious.
Teams, who can kick or handle the ball, are made up of men and women, but there are no strips, limits on player numbers or recognised pitch markings.
Once the game, typified by no-holds-barred tackling, is over, the ball is kicked into the River Aln, prompting a scramble to reach it first and carry it to the opposite bank.